US Leading Mindfulness Subscription
Discover limitless earning potential with +1,000,000 boxes sold in the US! The #1 Subscription box for mindfulness & self-care.
Why Work With Us?
Join forces with our Mindful Box & access an ever-growing customer base that will amplify your income!
BECOME AFFILIATE
A Closer Look Inside Our Box
The Mindful Box serves the timeless self-care market & the growing natural crystals niche with a monthly delivery of 100% natural, handpicked gemstones and high-quality mindfulness tools.
1M+ boxes sold, 10k 5-star reviews. Here's why our customers love us
This box is like a gift for myself!! I receive tons of different items every month and every unboxing is like a surprise, you never know what you'll get 😍😍
Sharon H. ⭐⭐⭐⭐⭐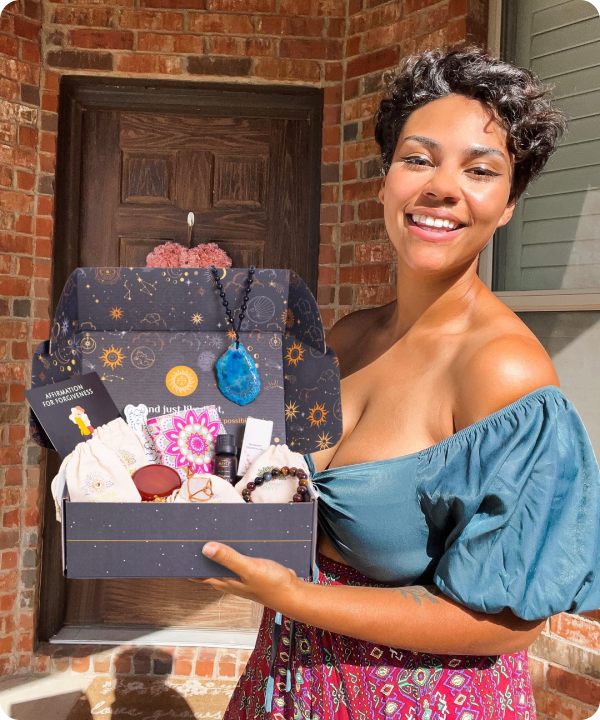 The Mindful Box really changed my life! 🙏 I struggled with anxiety for years and nothing worked. All of these items keep me super calm and happy.
Laura B. ⭐⭐⭐⭐⭐
I was struggling a lot after my divorce. A friend recommended this box and for the first time in forever, I am excited about something! It inspires me to love myself.
Kristen Allie K. ⭐⭐⭐⭐⭐
On my 6th box and I'm so happy I found it. I'm getting so many high-quality products for such a low price. The huge Quartz I got in my last box would cost me that alone.
Renee P. ⭐⭐⭐⭐⭐
It doesn't get any easier than this!
Become the #1 Mindfulness & Self-Care Subscription Box Affiliate
Our incredible growth in the self-care market led us to stand tall as the #1 Mindfulness Subscription Service for tens of thousands of customers.
And we don't feel like stopping here!
Our monthly box appeals to both seasoned and beginner self-care enthusiasts, attracting new customers to our brand every month.
Transparent & Accurate Tracking
Ensure maximum revenue through Everflow.io's first click tracking platform, an easy & personalized tool that provides a top-notch affiliates service.
Tested & Promising Market
Discover the self-care market, a booming niche with potential customers willing to establish long-term relationships with brands and products like ours. Join them in their self-growth journey!
Highest-Quality Creative Archive
Take advantage of all our UGC video content, static ads, advertorials, and many more resources. We'll be happy to help you with all our creative resources.
No-Limit Stock
Sky's the limit to your success - there's a Mindful Box for every client you bring! Our stock offers you massive scaling potential to fuel your growth.
Industry's Top Conversion Rate
Take advantage of our 3% conversion rate, one of the HIGHEST rates in the industry.
Flexible Conditions & Bonuses
Enjoy the freedom to work at your pace with our team's full support, rewarding your efforts with enticing bonuses for Power Affiliates.
Ready to Join a Winner's Team?
Becoming part of our affiliate program is as easy as filling out this 3-minute form.
BECOME AFFILIATE
Important Note:
We use Everflow.io to manage our affiliate system, simplify our payments & track engagement & conversions.
As opposed to ClickBank, Shareasale, or other similar platforms, you can register at Everflow.io for FREE & start receiving your payments right away through its easy & intuitive navigation system.